The Backup Solution for Everyone
Have you ever accidentally deleted a file, had a virus corrupt your files, or had a disk fail? These are just a few examples of how people lose pictures, music, personal and financial data every day. Don't let this happen to you. Protect your PC with Acronis True Image Home 2011, featuring local and available online backup.

PC Backup and Recovery of Systems, Applications and Files
Acronis True Image Home 2011 assures that all your important data, including photos, videos, music, documents and applications, are fully protected and can be recovered quickly in the event of any disaster. Use our intuitive graphical user interface to easily define where you'll be backing up your PC and how often. Create copies of your hard drive with just a few quick steps while continuing to work. If you lose an important file or need to recover an earlier version of it, don't worry: you can go back in time to retrieve it in seconds.

New and improved features
Acronis® Nonstop Backup™
This must have feature has been expanded to support Acronis Secure Zone®, enabling you to recover on the fly, wherever you are, to any point in time, from a secure partition on your hard drive, even if your operating system has failed. (Note: requires working hard disk drive).

Graphical User Interface
A redesign of our user-friendly interface includes new features like Drag and Drop for faster navigation, Wizards and One-Click configuration tools to select the best backup and restore options for your needs.

Predefined backup schemes
Acronis True Image Home offers you predefined backup schemes designed for specific user needs - from a disk space-efficient scheme suitable for users with limited backup storage capabilities to a scheme for those users who need higher security for their data and system. The program offers different backup schemes for disk and file type backups. You just select a scheme and the program automatically manages your backups. In addition, you can create a custom backup scheme which will exactly suit your needs.
Full Windows 7 Integration
Discover how well Acronis® True Image™ Home 2011 and Windows® 7 work together to best protect your PC. Enhancements include Acronis integration within the Backup and Restore section of the Windows 7 Control Panel; the ability to view and restore previous file or volume versions from the Context menu; backup and restore of Windows libraries; and the ability to launch Acronis® True Image™ Home 2011 backups.

Time Explorer
You'll find this only with Acronis: an easy way to view and manage your backup files from a single screen. Annotate backup comments and review screenshots that show the state of the desktop at the moment of the backup.

USB 3.0 support
Acronis True Image Home supports the new USB 3.0 standard. If your motherboard can work with USB 3.0 hard disk drives, you can use the high data transfer speed offered by the new standard to make your backups run much faster.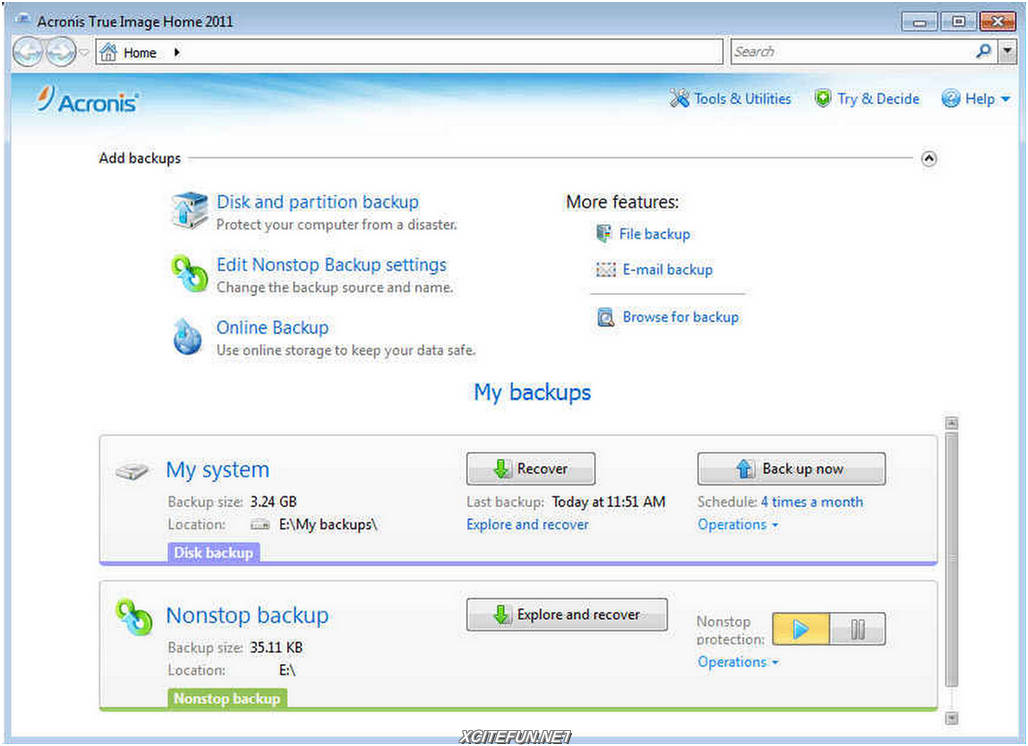 - Supported operating systems
Windows 7 all Editions
Windows Vista all Editions SP2
Windows XP Home Edition (X32, SP3)
Windows XP Professional (X32/X64, SP2)

- Minimum system requirements
Pentium Processor 1 GHz or faster
512 MB RAM
CD-RW/DVD-RW drive for bootable media creation
Using Acronis Nonstop Backup requires at least 1 GB RAM
Mouse or other pointing device (recommended)
High speed internet connection (for use with Acronis® Online Backup)

- Supported file systems
FAT16/32
NTFS
exFAT
Ext2/Ext3/Ext4
ReiserFS
Linux SWAP

- Supported storage media
Hard Disk Drives
Networked Storage Devices
FTP servers
CD-R/RW, DVD-R/RW, DVD+R/RW, BD-R
ZIP®, Jaz® and other removable media
PATA (IDE), SATA, SCSI, SAS, IEEE1394 (Firewire), USB1/2.0/3.0 drives
Windows Dynamic Disks and GPT volumes support available with Plus Pack add-on.
acronis true image home 2011 v14.0.0.6597.iso free download